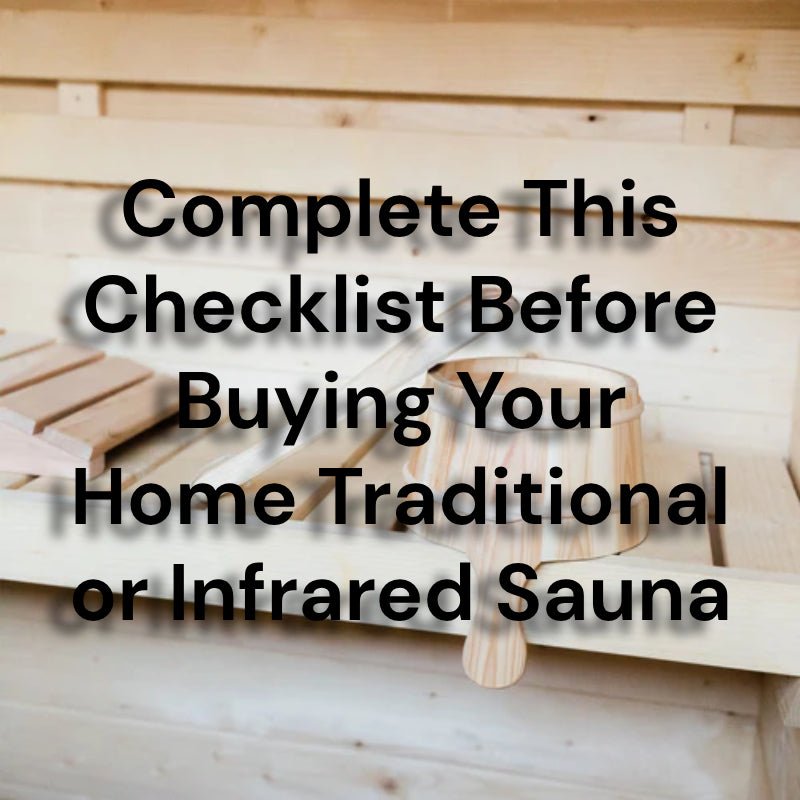 Complete This Checklist Before Buying Your Home Traditional or Infrared Sauna
5 Things You Need to Know Before You Buy a Home Sauna
Before purchasing a home sauna, consider the following factors:
Types of Saunas:
Traditional sauna or Infrared sauna
Determine which type will best suit your needs – Looking to get healthy? Want an authentic steamy sauna experience? These are things to consider before buying.
Size and Location:
Measure the available space where you will put the sauna
Choose a sauna that will fit comfortably
Select a well-ventilated area, preferably with easy access to water for the sauna's location for löyly and hydration.
Materials:
Choose a sauna made from solid wood such as cedar, hemlock, or spruce
These woods are durable, resist moisture, and have a pleasant aroma
Features:
Decide which features are important to you
Consider built-in music systems, chromotherapy lighting, or aroma therapy dispensers. 
Choose a sauna with digital controls or heater dial controls settings
Budget:
Determine how much you are willing to spend
Factor in the cost of installation and any additional accessories or upgrades. Electrician costs, installation, etc. can easily add up. Also, we recommend double-checking with your electrician before purchasing to see what works with your home.
By following this checklist, you can ensure that you are choosing a sauna that meets your needs and fits your lifestyle. With proper care and maintenance, your home sauna can provide years of relaxation and rejuvenation.